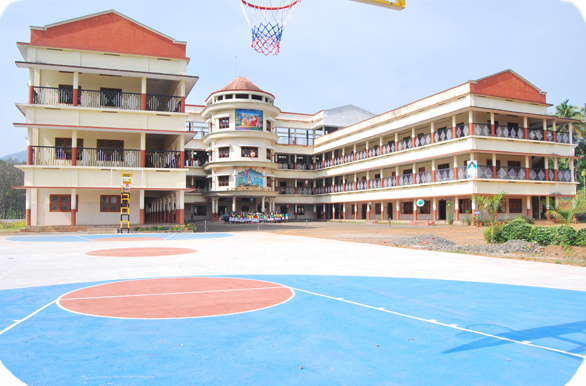 For more than a decade Vimala Public School Kuttampuzha, enlighten several ignited minds in and around Kuttampuzha Panchayath, with her refined bestowing of English education. By the grace of the omniscient God Almighty and through the intersession of the Immaculate Heart of Mother Mary after whom this school is named as Vimala Public School, the radiance of Wisdom and Knowledge continue to prevail in Kuttampuzha which is a typical part of our ''Gods Own Country"with lush vegetation, rivers, hills and innocent inhabitants.
As Kuttampuzha is a paradise for the immigrants from different parts of Kerala, the people here were very much desirous of imparting quality education to their posterity. Because of many obstacles and hardships like poor transportation system and lack of bridge across the Periyar, for many years their dream could be realized only by few fortunate students.
Irrespective of religious differences and beliefs most of the people in this locality showed great trust and faith towards Catholic Priests and religious devotees who always considered and respected back these people and shouldered the responsibility of improving their lifestyle. As a result, Rev. Fr. Joseph Vattakuzhi, then Parish Priest of St. Mary's Catholic Church Kuttampuzha proposed the idea of establishing a convent and adjacent English medium School, here, to his Excellency Mar. George Punnakottil, then Bishop of Kothamangalam. After several consultations and discussions this mission was entrusted to the Congragation of Mother of Carmel indigenously founded by St.Kuriacose Elias Chavara. This with ardent charisma and enthusiasm, the authorities and superiors benevolently took up the hardships and envisaged the plan to embark an educational revolution in this locality with the establishment of a Convent here.
On 10th October 2004, Rev. Fr. Joseph Vattakuzhi laid down the foundation stone of our new convent.On 6th June 2005 we started a nursery class with 81 students on the roll. Mother Provincial Rev. Sr. Benno CMC, Rev. Sr. Devotia CMC, along with many others gave timely directions and encouragements.
At this juncture we fondly remember the service of first Principal Rev. Sr. Jossy CMC , then Local Manager Rev. Sr. Mettilda and Mother Provincial Rev. Sr. Benno CMC.
Sr. Rose Mathew, and Mrs. Sheela Eldhose were the first teachers. Rev. Sr. Tresa Mary CMC took charge as the Principal in 2005. She was succeeded by Rev. Sr. Merrina CMC and later Rev. Sr. Glory CMC. At present Rev. Sr. Liseena CMC is the Principal of the School and Rev. Sr. Mary Paul is the Principal of our Kinder Garten
26 February 2006 is written in golden letters in the history of Vimala Public school, because it was on this day that we bought the land for our new school building where our school is situated now. On 5th June 2006 classes were shifted to the new building. It is a three storied concrete building with all modern infrastructures like reference library spacious playground, football court, badminton court, basket ball court and a indoor auditorium. Highly qualified dynamic and experienced teachers meritoriously impart knowledge and wisdom to our students and guide them to meet the challenge ahead.
In the year of 2012 our school was granted NOC and was affiliated to Central Board of Secondary Education New Delhi. Since inspection our school progressed day by day and have classes from play class to Std VI with 447 Students,27 teaching staff and 8 non teaching staff. The first batch of our X th students marvelously passed out in 2016 with 6 full A1 grade, 17 high distinctions and 4 first class. Our second batch (2016-2017) passed out with exceptionally meritorious result with 32 full A1 and 12 high distinction.
We were blessed to achieve an outstanding results in the Board Examination in Accademic year 2017-18.Out of the 31 students who appeared for the Board Examination 4 students secured above 90% ,15 high distinction,5 high first class 7 first class.
With esteemed relevance and prominence Vimala continues here as a blessing and as an abode of wisdom and knowledge, under the eminent leadership of our dynamic Principal Rev. Sr. Liseena CMC.
.